can you tell what we did over the weekend?
so we recently figured out that landon has a "second" cousin here in rexburg...
and any family is great family right?
well landon ran into him on friday and we got to go hot tubbing with him
& his friends friday night.
and Saturday we went
Skeet Shooting
!
okay so i'm not so confident with guns. they scare me & just yeah really scare me.
but i've used them before and in the end i always have so much fun.
so we drove out down a muddy,
did i say muddy?
, dirt road full of puddles & lakes
[okay maybe i'm a little bit over-exaggerating but just wait till you see the photo]
and then we all got to shoot skeets and just have some good ole
IDAHO FUN!
so landon is usually very skilled with anything involving athletics-throwing-etc.
well surprisingly he was just not catching onto throwing the skeets.
it was unusually hard...
even our friend fell trying to throw them!!
i couldn't even get it in the air.
i guess it's a skilled kinda talent thing some people are born with? :)
i hit some skeets up in the air! super exciting for my first time.
one thing i learned. build some muscles otherwise your arms are going to feel like
you're paralyzed the next day or so. i'm still aching as i type. :/
we did a couple shoot, and let's say that landon and i tied. :)
ben took a series of our shooting trying to catch the shells in the air,
he did great and there were so many that i was able to make this!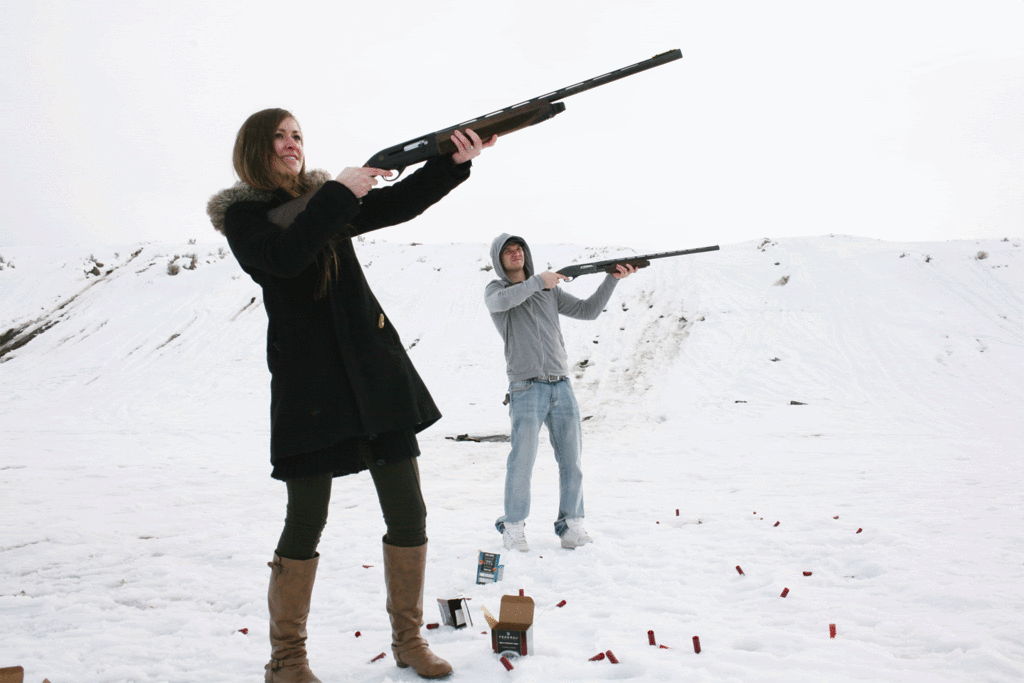 the group, it's always nice to meet new people and make new friends!
on our way out one of the cars got stuck. so all of the guys got out to push.
i sat in the car and once they were done i saw landon get on top of the truck
and before i could tell him not to,
and the only thing i could do was take photos.
landon can be crazy sometimes.
here are the muddy lakes we drove through... now you see what i'm talking about.
seriously i was a stress ball driving through these roads.
i'm from california- and i'm not used to snowy-muddy-puddled roads
we just got brand new tires and rims so i didn't want those to get all scratched or ruined.
but the only way to keep me from dying of anxiety was getting my mind off it & take photos.
so i have a ton of these, and it helped me get through it all without dying.