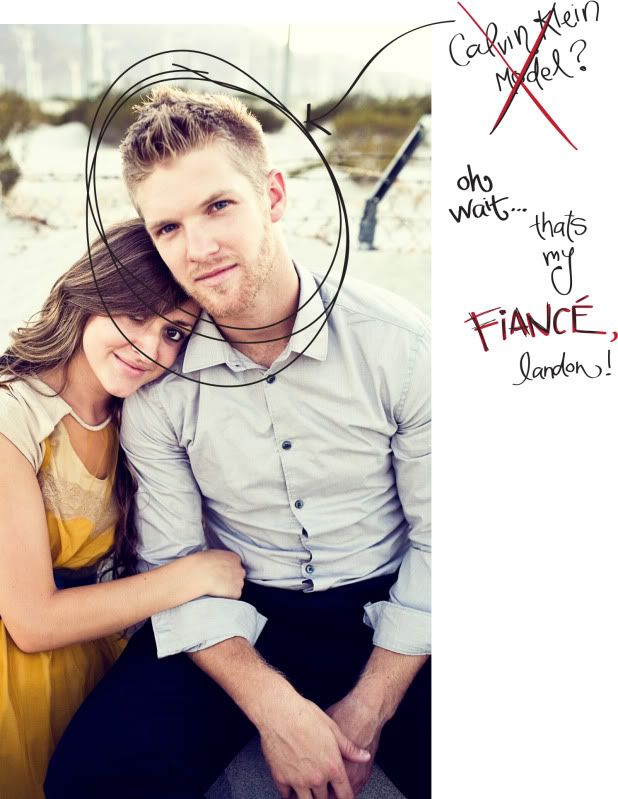 no landon, this is not to embarrass you.
i just want to tell everyone a lil bit about you,
so they can see maybe a
slight
1/8 or 1/16 of what i see in you.
and most people looking on my blog know everything about me, & since you are my other half...
they need to know some
facts
about you!
1
. landon is born & raised pure-bred canadian....i think i always knew deep down inside i would marry someone out of the country, you know, an illegal alien ;)
2
. landon is majoring in biology with a minor in chemistry, planning to go into pre-med
3
.landon is a genious & hard worker, both go hand-in-hand with his schooling... there's proof in his grades
4
. landon served his mission in Madagascar!...you know, that island on the east of Africa...and if you ask him if it's like the cartoon movies..
.it's not even close
!
5
. landon is a little artist at heart, he appreciates all art & has taken some amazing photos while traveling...and is gaining some talent with charcoal.
6
. landon is adventurous x 10! let's just say he has traveled to china, france, africa, thailand, cambodia, vietnam, laos etc etc...and we plan to add to that list this summer & forever...
7.
landon bought his first car this year, and before that it was
motorcycles
!... he has only owned motorcycles before...and will always have a place for them in his heart.
8
. landon can play the guitar...and can sing...which most haven't heard since high school, but he has a cd to prove it...so cute.
9
. landon is a skillful little chef! last semester we started this tradition of making lunch/dinners together everyday. i thought i would end up doing most of the cooking, but i guess i have to admit, it ends up being him doing most of it!
10
. landon is the best public speaker i have ever heard... he was the best man at a wedding this summer and with only a half sheet of a few words he gave an amazing, lengthy best man talk that made everyone laughing and crying the whole time, seriously, i'm jealous of this and need to learn from him.
well i only wanted to do 10...but obviously he's so awesome i can go on forever.
11
. landon is so friendly to everyone. he especially treats me so good & makes me feel so important. he puts me first and there is no question about it.
i think landon has been hiding one thing from me.....
i think he used to model for calvin klein? still not sure because he would admit to it, but it shows in all photos....
hope you learned a lil itty bit of landon because he means the world to me!
i love you babe! and i'm sooooo excited for nov.20th & forever!