we are normal and eat out too.
i'm not always slavin' away in the kitchen!
and when landon comes home and suggests

Great Harvest
i am already out the door waiting in the car.
i think i can eat there every day...

which probably isn't the greatest with how much bread they give you

...
but lets be honest here, it's so good!
i am a major fan of the

dilly beef sandwich

...
homemade dill bread with thinly sliced meat, red peppers, tomatoes,
avocado spread... okay i'm making myself hungry all over again!
one of my future goals consists of making some homemade dill bread...
hopefully that will be soon!
a free slice of bread is always a plus.
today was cinnamon burst.
and whenever i'm trying to take a photo of landon he is either making a
funny face or tries to get anything he can into the photo.
which i'm fine with, i'm just glad he doesn't go crazy that my camera is
always the 3rd wheel on our dates!!!
today it was his pointer finger
.
i was able to get a shot of just his sandwich
without the finger... SCORE!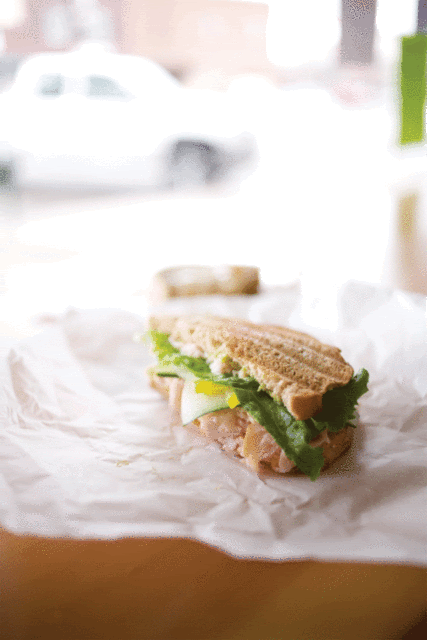 we shared a hot broccoli soup... and boy was it hot.
we have burnt taste buds for the next week. thank you great harvest.
a
nd when we were driving down main street, i looked
in the rear-view mirror and saw this

huge tractor

behind us!
only in idaho would you see these on a daily basis acting as if it was a regular car.
this reminds me of
this post
when i was back home in NORCO.
we then took a stroll through the
art gallery
of oil paintings and BFAs.
and lastly went through the
ceramics room
so i could see husband's talent.
he has some lovely pieces coming up, can't wait to show you all!
then we said our lovey dovey goodbye.
he's off to studying for 6 hours for his test tomorrow...
and i'm off to blogging, drawing and spending time with
Jose & Ray
.
they keep me occupied with their buttery voices
and good melodies.
and landon is okay with that :)
oh and last but not least...
WANT A
FREE
DRESS LADIES?!?!?!
you would be dumb not to enter, her dresses are beautiful
and Becca and I are working with the Spring line right now!
I'm so excited to show you all what we've been doing!!
But for now,
go over and comment
and check out her Spring line.
It's chic, elegant, beautiful, modest, fashionable all

squeezed

into each dress!
now stop reading this and go visit her blog!