this semester i'm taking figure drawing... a class that i have been dying to take since i first started college. it's a 400 level class so i have been waiting for awhile. well when i first started the class it was a real struggle for me and every time i walked into class it was such a stress. half of the class had taken figure drawing 1 or 2 times already because as an artist the human figure can never really be fully comprehended and mastered without tons and tons of practice. so i was always so intimidated and nervous, especially since the last time i took an actual drawing class was a year ago last fall. but as time has gone by i am absolutely loving the class! it is such a relaxation and release, and no more a stress. one of the requirements for the class was to learn the anatomy of the body: all the bones, muscles, where they attach and what they are used for.... yeah and all of you thought art was an easy major. we were required to draw all the bones and then sketch the muscles on top of them and had a written test. surprisingly i got a 98% on the anatomy test and i can really say that learning the anatomy truly helps with drawing the figure.
how the class works is we start off with gesture drawings for fifteen minutes, each one being 1 minute to 3 minutes long. gesture drawings are all about capturing the gesture and line of the figure, not so much proportions, more about movement and exaggeration. then we have 10 minute structure drawings to better understand the line and form of the figure. after that we have 1 hr+ drawings and focus on light and shadow lift out. the class is three hours long, as it may seem like a long time to sit and draw, when you really enjoy it it flies by... except when you're hungry and dying to get out and eat lunch... my problem most of the time.
here are a few that i have laying around my room. these aren't even close to all of them and most gesture drawing i smear and then draw on the same paper because they are so short and just for warming up.
and if you don't read any/all of this, i totally understand. any writing on a blog, i skip down to the photos... that would explain why i have little writing on my blog. :)
gesture drawings: 30 sec- 3 min long, varying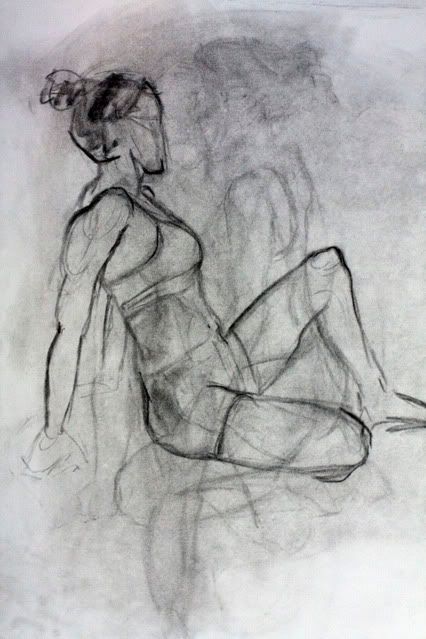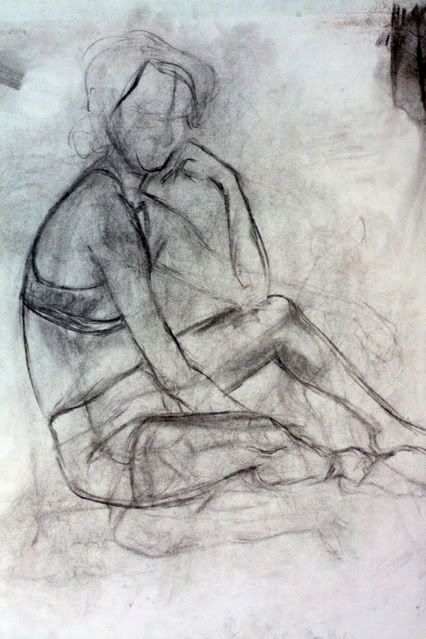 structure drawings: 5-10 min. long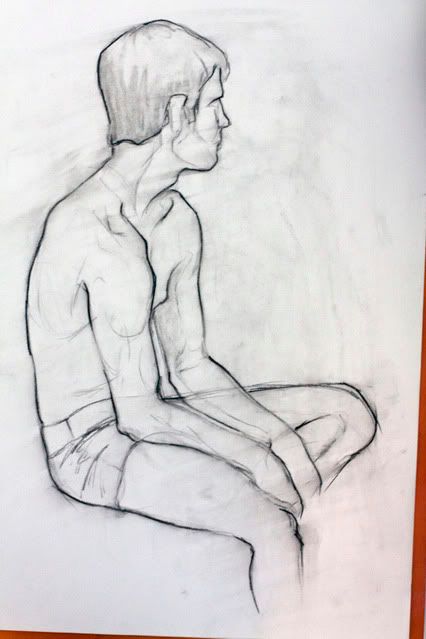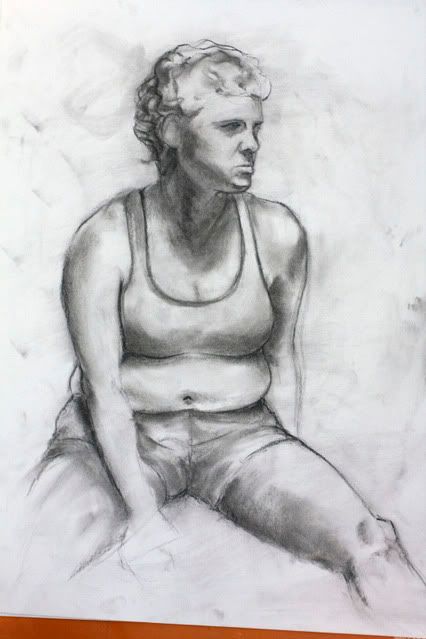 focusing on lights and shadows
while drawing, you have to consider:
muscle tone and underlaying, where prominent bones are seen and how they get hard lines and edges, where muscles are and how they get soft lines and blurs, line quality, shape/form, composition, structure and gesture. a lot to consider while trying to accomplish one thing. i hope to take this class again to really understand the human figure and conveying it through drawing. of course none of these drawings are totally finished because we have limited time in class. towards the end of the semester we will have the full 3 hours to do a drawing on nice paper. this is all just practice till then.